Located directly on the Caribbean in the village of Limón, Department of Colon, Honduras, this facility houses mission teams when they come to serve. Builtin 1997, the upstairs living area includes a great room, kitchen, 8 bedrooms with 24 beds, and 4 baths.
The clinic is located on the first floor and includes exam rooms, dental facilities, a laboratory, and a pharmacy. Telemed is also conducted from this facility.
Nestled in the side yard is a outdoor classroom used for community education programs.
Builtin 2000, the Icoteas Clinic is a satellite clinic located in Icoteas, about 45 minutes east of Limón. The clinic has 3 exam rooms and a pharmacy in a 900 square foot building. Teams typically make a day trip to the clinic from Limón.
In 2015, CHHF began staffing the Whispering Hope Clinic, founded by Missionary Health Service and located in the village of Chapagua near Trujillo. CHHF has accepted this clinic as part of its network of clinics in Honduras. Teams are going to Whispering Hope for 1-2 days during their week in Honduras, or it can be scheduled separately from the Limón Clinic.
Mission teams will travel many miles from Limón to serve people nearer where they live.  Setting up clinics in schools, churches, or even under shade trees, teams will happily travel, so patients in desperate need receive medical, dental, ophthalmic, and pharmaceutical care.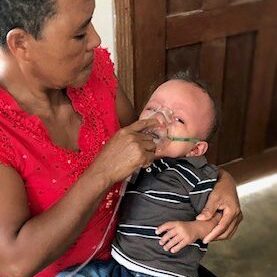 You Can Help A Child Breathe
Air pollution, wood fire stoves, dry & dusty conditions all add to the hundreds of people seen at the clinic with breathing problems. Nebulizer treatments decrease wheezing and coughing.
Your donation today can provide nebulizers and the medications used to help a child in Honduras. Can we count on you?