Education is empowering. It is a gift you can give that will have a lasting effect on a person, their family, and community. Education strengthens and improves lives.
We are always overjoyed when a mission team member offers to provide an educational opportunity for community members in Limón. Last month, Liz J., a nurse from Ohio, brought a curriculum called Helping Babies Breathe which teaches essential neonatal resuscitation and newborn care skills to support babies that do not breathe on their own after birth.
Liz J. was generous enough to share,
"One of my highlights this week here in Honduras was teaching HELPING BABIES BREATH to the local midwives of Limon and Icoteas! 👶
I knew that I would likely meet with 5 or 6 midwives in Limon and 1 in Icoteas for a total of 7, but ending up meeting with 8 ladies in Limon and 7 in Icoteas!! Several ladies made a special trip down the mountain for the education!"
The generosity of many of her friends made this possible. Materials for the program were purchased with donations she received.
Because of her efforts and their support, 15 midwives were equipped with education materials, in Spanish, a suction device, and a ambubag with 2 sizes of masks.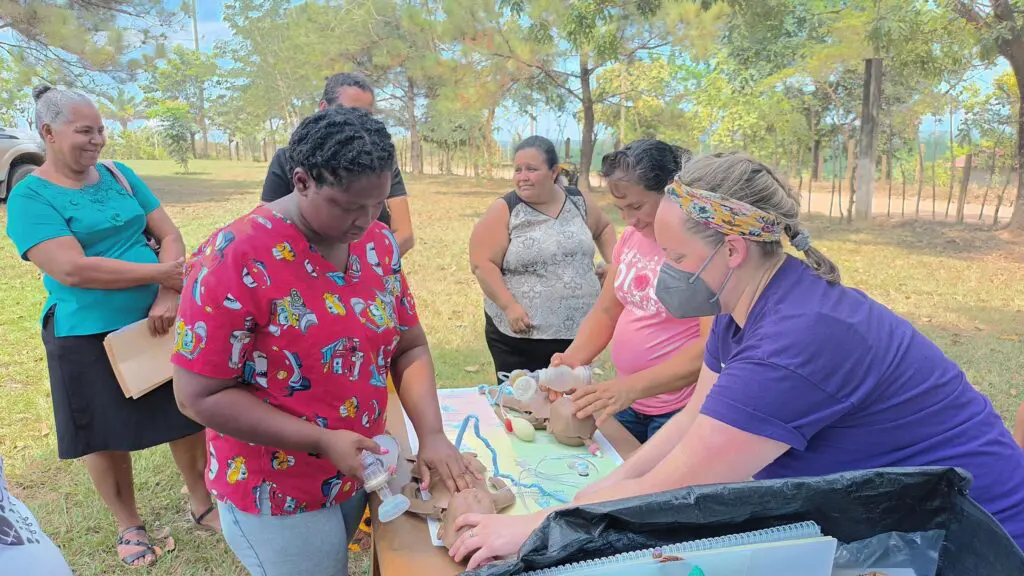 Helping Babies Breath neonatal resuscitation techniques have been shown to reduce early neonatal mortality by up to 47% and fresh stillbirths by up to 24%. It is designed to to specifically meet the needs of resource limited environments.
Midwives in the Limón community will walk into every birth with more skills and confidence. That is a priceless gift this educational opportunity has brought to the community.
Special thanks to Liz J. for all of her preparation and hard work to provide these classes and to Gladis, CHHF Community Development Manager, for helping to publicize, coordinate and translate. Also thanks to Team Leader Gail Colby and the rest of the team for their support.
What a wonderful partnership.